Studying MARIHE means Diversity
MARIHE continues to attract new participants of this Erasmus Mundus Joint Master Degree programme from all around the globe - our students and alumni come from almost 60 different countries!
This diversity in the educational backgrounds is enriching the learning experience of the students from day one - as well as studying in at least three different countries in Europe and Asia.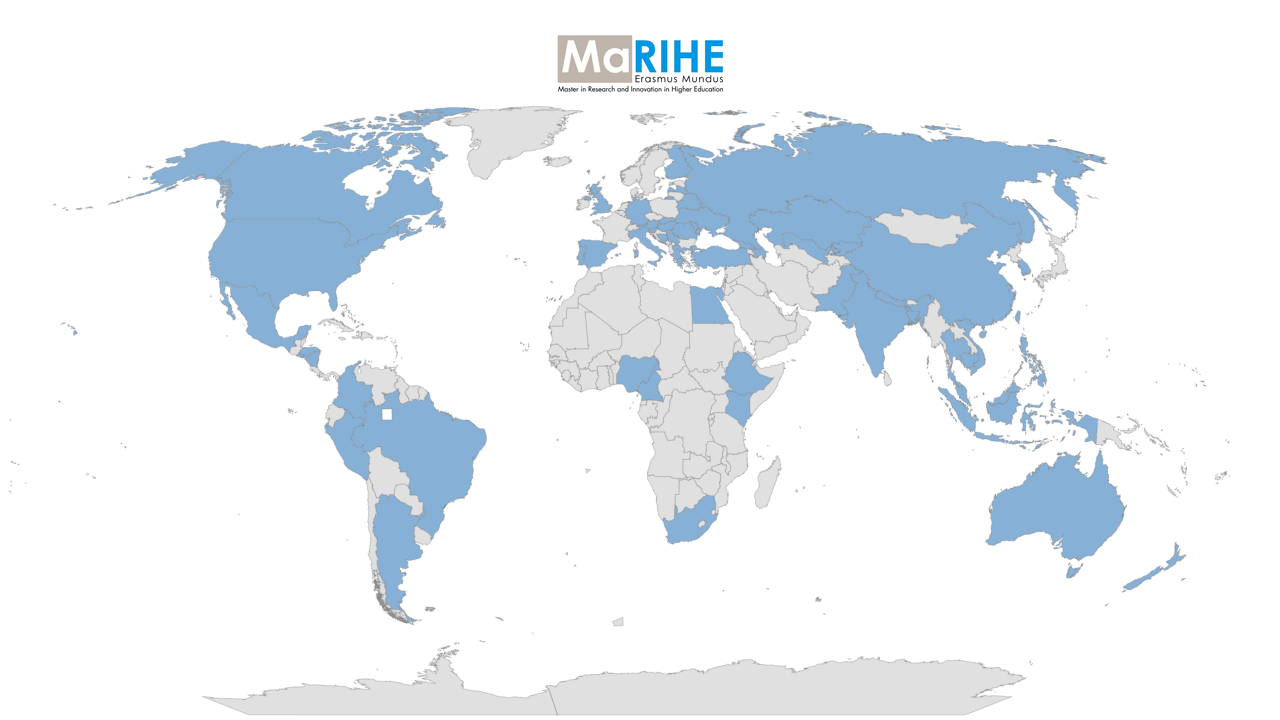 The blue countries show the countries of origin of MARIHE students and alumni (2012-2022).
Current students (intake 2022)
Goodluck Adimuko, Nigeria
Nivedita Anand, India
Johanna de Jesus Cadenas Zarate, Peru
Fernando José Castellanos Menjivar, El Salvador
Valentina Cruz Mahecha, Colombia
Ahiram Cruz Martinez, Mexico
Nino Gogadze, Georgia
Krishan Heredia Aponte, Colombia
Junaid Kajee, South Africa
Lesia Kravchuk, Ukraine
Karol Wiktor Leja, Poland
Cindy Tatiana Losada Caballero, Colombia
Lasha Macharashvili, Georgia
Pamela Paula Maldini, Indonesia
Jenny Henrika Nygard, Finland
Andrea Olmi, Italy
Siro Bartolome Pina Cardona, Spain
Mattia Quinteri, Italy
Hesam Camilo Sadeghian Rios, Colombia
Bernardo Sfredo Miorando, Brazil
Heisler Samir Sosa Colindres, Honduras
Current students (intake 2021)